Dental Implants in McCandless, Pittsburgh, PA
If you are dealing with tooth loss and trying to determine the best option, you may have stumbled upon dental implants. Implants have become a popular way for our dentist Dr. Carmassi and his team to restore and replace missing teeth because they offer a permanent and lifelike solution.

Get to Know Dental Implants
A dental implant is made up of three parts,

The metal fixture
The abutment
The dental prosthesis
Placing the Artificial Tooth Roots
The metal fixture is the actual implant itself. The implant is a very small metal post, usually crafted from titanium, that functions like tooth roots and is placed into the jawbone. What makes implants so successful is a naturally occurring process known as osseointegration. This is when the bone and tissue fuse together permanently with the implant.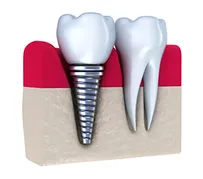 Why the Abutment is Necessary for Implants
The abutment is the next piece to be placed. After your mouth has been given several months to heal (and for osseointegration to take place), we will open the gums up and place the abutment on top of the implant. Unlike the implant, the abutment lies above the gums. This is the part that is used to support a dental restoration such as a crown, bridge, or dentures. Most of the time, abutments are not typically built into the implant, but some implants already contain an abutment.
The Crowning Touch
The dental prosthesis is the part of the tooth that people will actually see when you smile. If you are replacing a single tooth, then a dental crown will be placed over the abutment. If you are planning to replace multiple teeth or all of your teeth, then a dental bridge or complete dentures will be secured into place on top of the abutment. Depending on the design our Pittsburgh general dentist uses, the restoration may either be cemented or screwed into place.
If you are interested in getting dental implants from Dr. Carmassi and his dental implant team right here in McCandless, Pittsburgh, PA, then call (412) 367-4515 to schedule a no-risk consultation!