Cosmetic Dentistry in McCandless, Pittsburgh, PA
We understand all the wonderful benefits that come with getting cosmetic dentistry. We love when our patients feel more confident, attractive, and sure of themselves once they have a beautiful smile just the way they've always wanted. Dr. Gary Carmassi and his dental team have been providing superior cosmetic dentistry services to patients living in and around Pittsburgh, PA, for more than three decades.

Cosmetic Dentistry is For Everyone
Most people assume that cosmetic dentistry is just for those with money or for celebrities, but this couldn't be further from the truth. Here at our Pittsburgh practice, we know that cosmetic dentistry is designed for every smile, and we provide a wide range of cosmetic services that can be tailored to meet our patient's needs, whether they are dealing with minor issues such as a misshapen tooth or they need a full smile makeover.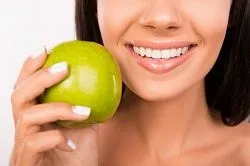 The Purpose of Cosmetic Dentistry
So, why do people turn to cosmetic dentistry? The purpose of cosmetic dentistry is to improve the overall esthetics and appearance of a person's smile. There are many ways in which our team can do this. While cosmetic dentistry focuses on the overall appearance of a smile, this doesn't mean that certain cosmetic treatments we offer such as dental veneers can't also strengthen and improve the overall health of your smile.

Types of Cosmetic Dentistry
Dr. Carmassi understands that each person that comes into the office has specific goals for cosmetic treatment, which is why we offer a wide range of options. Some of the most popular cosmetic dentistry procedures we offer include,


Teeth Whitening: Our in-office whitening system can help patients achieve a smile that's multiple shades whiter in under one hour right here in our office.


Bonding: We can easily improve minor chips, cracks, and discolorations in a tooth, as well as "close up" tiny spaces between teeth by simply using this tooth-colored bonding resin to reshape and hide these small imperfections.


Tooth Reshaping: We can alter the shape and size of a tooth by simply shaving away and altering the enamel. This treatment is often used together with bonding to improve the appearance of one or more teeth.


Dental Veneers: These mega-thin porcelain shells cover the front surface of one or more teeth, becoming the tooth's outer layer. Not only does this help to hide various imperfections throughout your smile, but it can also make smiles appear straighter without turning to braces.

If you are interested in turning to Dr. Carmassi for cosmetic dentistry,
call our McCandless, Pittsburgh, PA, practice at (412) 367-4515 to schedule a no-risk consultation!